The Independent Church of India accords high respect and esteem for women and their ministries. It recognises the importance of women for the general development and progress of not only the Church but also the society in general. The first Women General Conference of ICI was held at Rengkai in 1990. This Conference firmly established a new bye-law and administration for the women ministry. Before this Conference, women simply worked in their own local churches, villages and districts. From this conference, women general conference had been held every year where women delegates and representatives of all districts and mission fields meet and plan their activities for the year.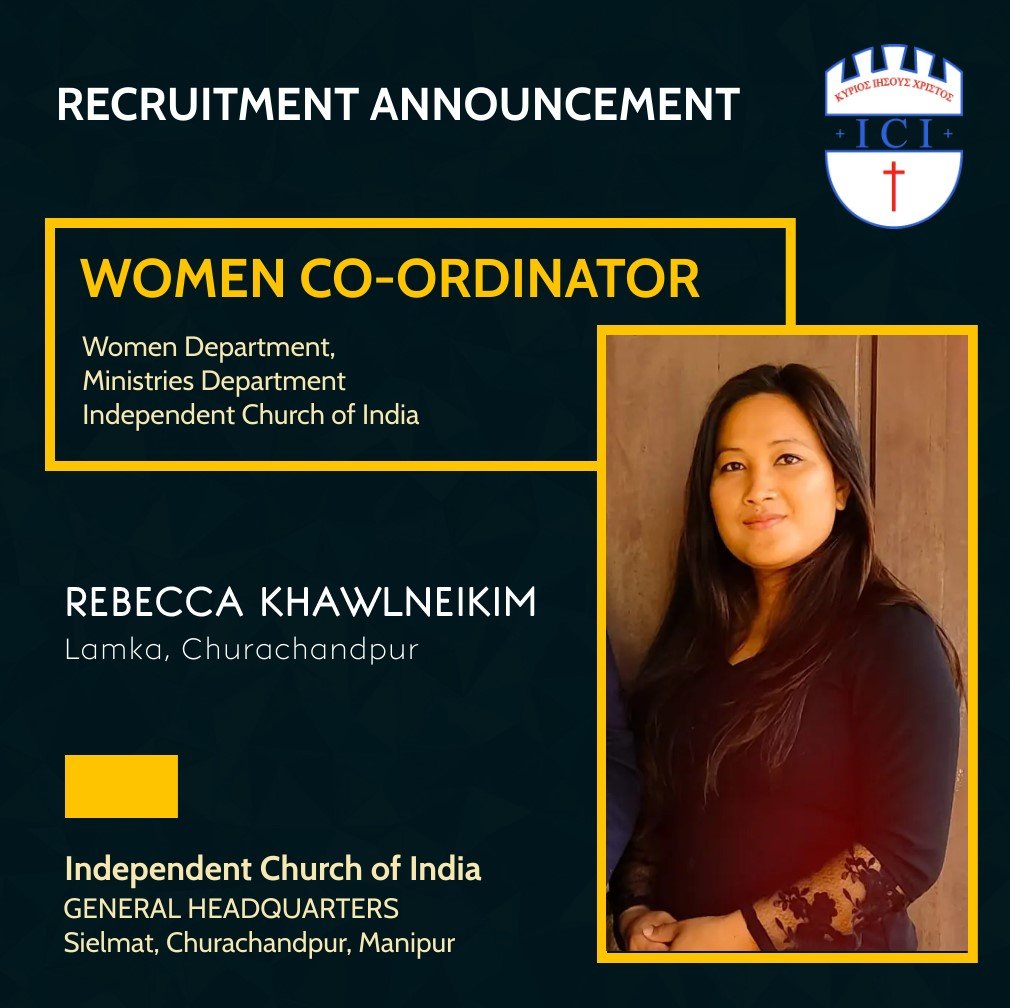 The women department had been very active in its ministries. It had built numerous churches in the ICI mission fields, built quarters, built shops, bought lands, organised camps and seminars and looks after orphans.
This department is under the ICI Department of Evangelism and is headed by the Secretary, Evangelism. This department has a Women Coordinator (WCO) and a General Conference Chairperson. It has the following bodies with different powers:
Local Women Committee: To look after local women affairs. Members are elected for a term of three years under the supervision of the Local Church Committee.
District Conference: This is the highest body within the district. The Conference elects a Chairperson, Secretary, Finance Secretary and Treasurer for a term of three years. This Conference looks after the district.
District Women Standing Committee: This Committee is elected for a term of three years. All Conference office bearers are members of this committee. It looks into matters related to the conference and all agendas discussed in the conference. It prepares budget and plans and elects an Election Commission.
Women General Conference: The General Conference is the highest Women Body of the ICI. All Central Committee members, district Chairpersons and Secretaries, ICI Executive Secretary, Field Superintendents are ex-officio members of the Conference. Other members: delegates selected from every district (one delegate for every 200 members).
Central Committee: The Women Central Committee is elected for a term of three years. All Conference office bearers are members of the Central Committee. It deals with all resolutions of the Conference, drafts the Conference programmes, prepares plans and budget; elect an Election Commissions and looks after all women affairs and ministries in general.
Central Working Committee: The Central Working Committee deals with matters of urgency. Members include Central Committee office bearers and the Department Head and other Central Committee members.